Do you want to go on a VACATION but too worried your plants might die from DEHYDRATION?Or are you the type that you unintentionally OVER WATER your plants because you're too afraid they'd dried up when you leave the house?
Take all those worries away as this Automatic Plant Watering Device will TAKE CARE of your plant babies. And it can effectively recycle plastic bottles, reduce waste and protect the environment.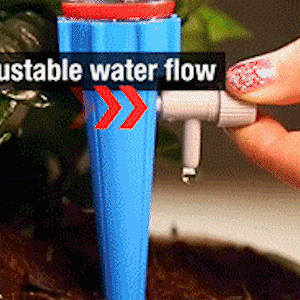 Features
🌷PLANT WATER FUNNEL is a device specially made for plant watering that has a CONTROL VALVE that can control the DRIPPING SPEED of water from 0-60s/drip. The SUSTAINED RELEASE drip could last for ONE to FIFTEEN DAYS.
🌷Insert the valve controller into the plant waterer, drill some holes in the bottom of the suitable bottle or cut the tail of the bottle, and add some water to the bottle, put into the waterer spike.
🌷Flip over the bottle and insert the watering spikes into the soil.
Switch the valve until the correct flow of water.
🌷You can also add water-soluble fertilizer to the water storage container and proportionally water to help the plant absorb nutrients more quickly and efficiently.
🌷At the same time reduce the troubles of fertilization.
🌺Adjustable valve:
The flow rate can be controlled. The plant watering Device with a control valve can control the dripping speed of 0-60s/drip, and the sustained release drip lasts for 1-15 days. Only adjust the valve to Meet your needs without complicated setup steps. Save time and water.
Shipping & Delivery
Free Shipping on orders over $39.99. No tax. All orders are dispatched out within 24 to 72 hours by using DHL, FedEx, or USPS after you place them. The delivery timeframe is usually between 15 to 30 days depending on your delivery address. The tracking number will be sent to you by email. Your package may face trouble beyond our control like customs or post office delay.
Our Guarantee
We truly believe we're making some of the most innovative products in the world and want to back that up with a risk-free ironclad 30-day guarantee. You can contact our customer support for an easy refund during the guarantee period.

We have friendly and knowledgeable staff to ensure you get an amazing shopping experience here. We'll make it right if you have hard feelings. Please contact us via sending an email to service@lakeeaonline.com if needed.
Lakeeaonline.com provides a half-year replacement warranty for products under normal use. For items beyond the warranty period, the actual cost will be charged according to the actual fault condition.